It's that time of year again, when everyone everywhere feels the need to summarize the past 12 months with a bunch of excruciating charts and graphs. What? You don't do this? Huh. Well we do. And if you're not the chart-making type yourself, we can make some for you too.
So, what can we say about this tangle of lines and rectangles? For one thing, we had kind of a big year. We passed 15 million verifiable observations in December, after hitting 14 million in October. It took us 6.5 years just to reach our first million observations, and we just did the same in a little over a month. We're growing quickly. What amazes me in particular is the growth in new species documented. There is a finite number of different kinds of organisms on our planet, and an even smaller number of them have names, but we don't seem to be approaching the limit of either. I mean, we're still seeing new birds, for crying out loud!

So what's driving all this growth? The most obvious factor from these charts is some mysterious event that happened at the end of April. What could that possibly be? It's almost as if there was some global, coordinated effort to use iNat for a few days... yes, of course, it was City Nature Challenge 2018, far and away the most successful event ever organized in terms of observations recorded on iNat and people recruited! And we at iNat had almost nothing to do with it: the whole effort was organized by folks at natural history museums and associated organizations around the world, but the founders and chief coordinators are our friends and colleagues here at the California Academy of Sciences and the Natural History Museum of LA: Rebecca, Alison, and Lila. Hats off to you folks. You helped make 2018 an amazing year for iNaturalist.
On top of that, we've seen a ton of growth in the southern hemisphere from countries like South Africa and Australia, but also in places like Hong Kong, Taiwan, the UK, Italy, Portugal, and Brazil. For this I think we owe a lot of thanks to enthusiastic iNaturalist Network partners and other volunteer iNat promoters in these areas, so many thanks to all of you. You can check out the Year in Review for the iNaturalist Network partners in Mexico, Canada, New Zealand, Colombia, and Portugal. Also, while I'm probably biased by the fact that I manage a lot of the translation integration for the website and the Android app, I suspect at least some of this growth outside of the US is due to the translation efforts of volunteers at Crowdin (mobile) and Translatewiki (web). Translatewiki doesn't seem to provide these stats, but here are some of the top translators on crowdin for this year (ignore staffers like Alex and me, since we were mostly fixing formatting issues):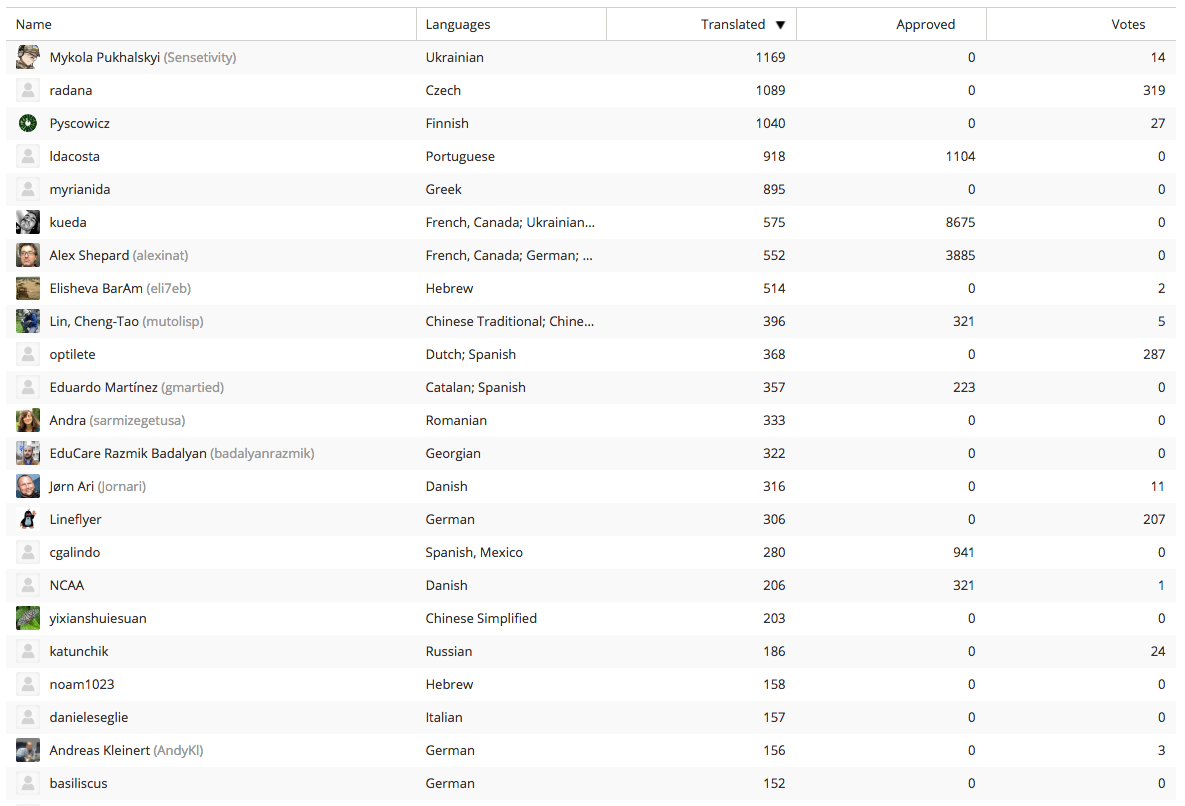 Aside from growth, I'm grateful that iNat remains a fun and useful place to share information. How fun and how useful can be difficult to quantify, but the publications section we added to the site-wide stats helps demonstrate at least one aspect of that utility: a lot of scientific studies used iNat data this year! We have our friends at GBIF to thank for enabling this kind of citation. Unfortunately it's not yet possible to say what individual observations were used in research, which would enable us to tell you what research you helped support, but export-level citations are still very interesting. Scientists, don't forget to cite your GBIF exports!

Many thanks are, of course, due to the institutions that support us: the California Academy of Sciences for employing us on staff, the National Geographic Society for financial and promotional support, the Moore Foundation for financial support, Microsoft for donating servers and other infrastructure, and many other companies for providing free services to our cause, including Google, Slack, New Relic, and others. Running a global platform like iNaturalist is not free, even if we don't charge people to use it, so we are very grateful for the largesse of these companies and institutions. If you would also like to chip in to financially support iNaturalist, that's possible now too.
As always, huge thanks from all of us on the iNat team to all of our fellow members in the iNat community. iNaturalist would not be possible without all of your contributions. I hope 2018 brought you many strange and wonderful creatures, and that in 2019 you'll see even more alongside your fellow naturalists.
-Ken-ichi and the iNat staff
Anotado por

kueda
, 19 de diciembre de 2018 a las 01:41 AM